Shopping Center Today – CENTERS OF ATTENTION 2013 Bringing the Enclosed Fashion Mall Back to New York City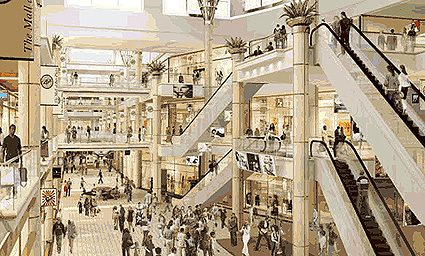 When The Mall at Bay Plaza opens in the summer of 2014 it will be the first en- closed anchored fashion mall built in New York City in over 40 years. This first-class, suburban-style fashion mall will showcase over 100 national fashion stores and restaurants. Tenants such as H&M, Victoria's Secret, Aeropostale, The Gap, Express and American Eagle will be joining anchors Macy's and JCPenney. The Mall will encompass a total of over 780,000 s/f of retail space. This will include an outdoor village area, a complete food court and parking for over 2,600 cars. This $300MM+ project promises to be the crown jewel of retail for the Bronx-Westchester corridor.
The Mall at Bay Plaza is a unique combination of extraordinary visibility, accessibility and immense population density. The site has access from both its feeder highways, I-95 and the Hutchinson River Parkway, carrying a total of over 250,000 cars per day. Located in close proxim ity to the Bronx/Westchester border, the total immediate trade area has an incredible population of approximately 1.4 million people. The mall is being built adjacent to the existing 1.3 mil- lion s/f Bay Plaza Shopping Center, already the largest and one of the most successful shopping centers in New York. When the mall is built the GLA of the entire complex will be well over 2 million square feet.
When it came to choosing the design, the developer wanted to make a statement and create nothing less then the definitive New York City retail project of this generation. The design is meant to evoke a classical timeless feel, and balance that with state-of-the-art amenities not seen in any malls in the area. With that in mind Los Angeles–based architect Altoon Partners was chosen. Already renowned for designing world-class malls in China and Russia, it succeeded in bringing that vision to life.
All the components of a wildly successful project are in place, from a stellar location to significant retailer interest to complete community and political backing. The Mall at Bay Plaza is certain to be a welcome addition to the New York City retail landscape.