At Home Opening 2nd Long Island Superstore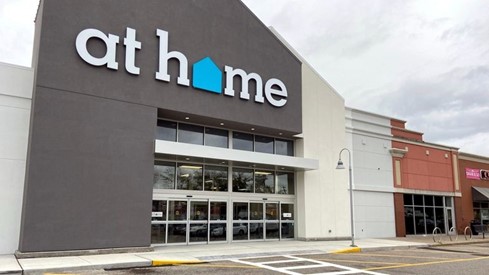 NEWSDAY BUSINESS: By Tory N. Parrish Tory.parrish@newsday – October 5, 2022
Retail chain At Home is moving ahead with expansion plans, including a massive Long Island store that will open this month, while home goods sales fall overall amid consumers' worries about high inflation and an impending recession.
Our business has continued to evolve through store expansion and enhanced product offerings. We are a value player and companies like us with a low-cost structure will be winners in the economic environment," an At Home spokeswoman said.
At Home, which entered the Long Island market in April with a new store in Bohemia, plans to open its second local store at 4000 Jericho Tpke. in Huntington Square in East Northport in late October, the Plano, Texas-based retailer said.
The new home goods store will occupy part of a former Sears space, and a former Dressbarn space in the shopping center, said Jerry Welkis, President of Welco Realty, Inc., a New Rochelle-based real estate firm.
The 73,000-square-foot store will employ about 25 people, the At Home spokeswoman said.
At Home, a discounter that describes itself as a home décor superstore has been growing quickly in the past few years.
It has 256 large-format warehouse stores, including about 30 that have opened since the retailer resumed its expansion in February 2021 after a pandemic-related pause.
The chain has the long-term potential to expand to at least 600 stores, the At home spokeswoman said.
The company, which was taken private after being acquired by private equity firm Hellman & Friedman for $2.8 billion in July 2021, has six more new stores planned in various states this year, according to its website.
Meanwhile, home goods sales are down at At Home and other chains, and some retailers, such as Bed, Bath & Beyond an online store Wayfair, are outright struggling.
Pandemic-related quarantines in 2020 and 2021 helped spur a boom in home goods sales as consumers stuck at home spent more money sprucing up their residences.
But sales are down now partly because consumers who shopped for their homes last year don't have the need to replace those items yet, said Neil Saunders, managing director of retail at GlobalData.
"The other thing as well is people don't have the money now. And they don't have the confidence to buy big-ticket items," such as furniture, he said.
Inflation and consumers' worries about a looming recession have them cutting back on discretionary spending, said Scott Hoyt, senior director of consumer economics at Moody's Analytics in West Chester, Pennsylvania.
Bed, Bath & Beyond, which said in August that sales at stores open at least one year fell 26% in the second quarter, announced that it was closing 150 more stores.
At Home has its own specific challenges, too.
The retailer has "burned cash through the first half of the year" and has a heavy debt load, according to a September report from S & P Global Ratings, a Manhattan-based credit rating firm.
Freight costs heavily affected At Home's profitability in the second quarter, which is among the reasons that S & P downgraded its issuer credit rating, an independent opinion of an organization's creditworthiness, from a B to a B- in September.